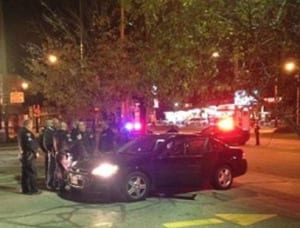 Cleveland Police have blocked off the area of E. 71st
and Harvard Avenue as they investigate a second
officer involved shooting in less than 12 hours.
Neighbors say around 5 o'clock this morning they
heard gunshots in the area of E. 71st and Ottowa
Photo: WKYC-TV
Chief Williams had this to say in response: "This is the second shooting in less than 24 hours that the Division has had and each time our officers approached people that drew weapons on officers and tried to use weapons against our officers. So it just illustrates again what we're up against day in and day out trying to make the city safer."
WKYC's article, "Cleveland Police Chief speaks out after officer shot" (Oct. 12, 2014)
CLEVELAND — A Cleveland police officer is said to be doing "okay" after being shot during a police involved shooting.
According to CPPA President Jeff Follmer, the officer involved was treated and released from MetroHealth Medical Center. The officer was wearing a bullet proof vest and it's but because of his vest that he wasn't seriously injured.
Cleveland Police Chief Calvin Williams tells Channel 3 the incident unfolded after officers were called by a neighbor for a disturbance at a near by residence on Ottawa Avenue. The suspect involved, according to the chief, was a man officers have dealt with in the past.
According to Williams, when officers approached the suspect in the driveway of the home, he withdrew a weapon, fired a shot that hit one of the officers. Police then exchanged gunfire with the suspect, hitting him once.