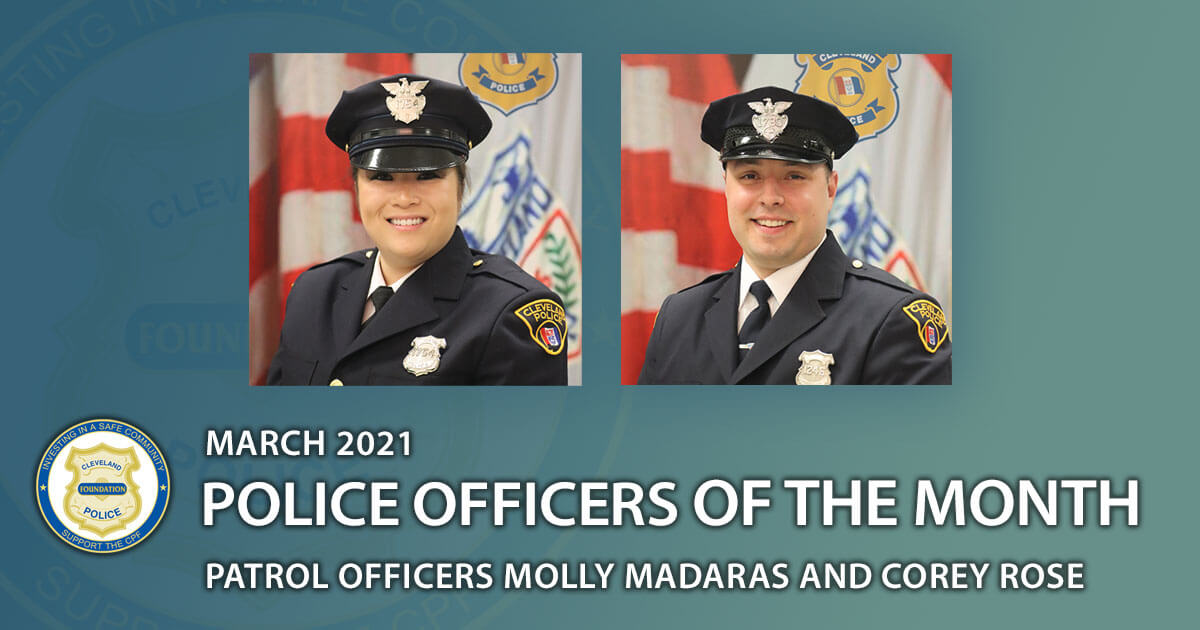 Two outstanding officers from the Second District are true Heroes in Blue!
Patrol Officers Molly Madaras and Corey Rose responded to a fire that had fully engulfed a home on West 47th Street this past January. Also responding was Ohio State Trooper Hiram Morales.
When notified by a neighbor that there were people inside, the officers entered without hesitation. Once inside, they encountered a male in a wheelchair and carried him out in that wheelchair. They returned to the home after learning there was a female inside, located her, and assisted her out also. The two rescued citizens were guided to a safe area away from the fire at which time neighbors came to their aid, providing blankets for both of them.
When asked about the actions of these patrol officers, Second District Commander Tom Stacho stated, "These officers ran into a burning building without regard to their personal safety and risked their lives to save the lives of two citizens who, because of physical limitations, were unable to escape the raging fire inside their home. Their heroic actions are especially noteworthy and deserving of this recognition."
It is because of their dedication and devotion to their profession that the Cleveland Police Foundation is proud to name Patrol Officers Molly Madaras and Corey Rose as its Police Officers of the Month for March 2021.
(Special note): Thank you to Commander Tom Stacho and Lieutenant Tim Maffo-Judd for this nomination!
2021 POMs 2020 POMs 2019 POMs 2018 POMs   2017 POMs   2016 POMs
---
About the Police Officer of the Month Program
The Cleveland Police Foundation – in partnership with the Cleveland Division of Police, Cleveland Police Patrolmen's Association, and the Fraternal Order of Police Cleveland Lodge 8 – is proud of the  Police Officer of the Month program. The program's purpose is to recognize members of the Cleveland Division of Police who not only perform their duties in an exemplary and extraordinary manner, but also excel in efforts that are consistent with a major tenet of the CPF's mission to strengthen the bonds between citizens and police officers… building bridges, creating opportunities for dialogue, and forging positive relationships within the community.
Already aware that officers in the Cleveland Division of Police routinely go out of their way to help their fellow citizens, committee members are not surprised by the large number of candidates. With so many outstanding officers, selecting one recipient per month proved to be a somewhat daunting task.
When asked why bestow these awards, CPF Executive Director Charles W. Lane, Jr. states, "In today's busy world, while some deeds may seem fairly insignificant, we hold out hope that such random acts of kindness may have a significant impact on a person's life. Even if not, it's nice to know that our police officers do for others what they would want someone else to do for a member of their family if the opportunity presented itself."
Police officers across this great country perform similar deeds day-in and day-out, with little fanfare and really not seeking, nor even wanting recognition. We commend these officers for their compassion and personal commitment to making our city a better place to live.