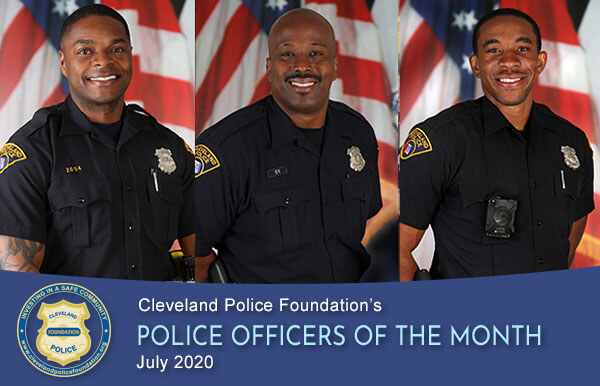 Third District Community Engagement Officers P.O. Ryan Lewis, P.O. Roger Jones, and P.O. Malcom Sutton are outstanding. According to Third District Lieutenant John Farnsworth, "Their duties are to engage with members of the community in a positive manner, and how they complete this is open to their imagination and innovation. They sure have made a name for themselves in accomplishing these goals!"
Before the COVID-19 pandemic struck the nation, they would reach out to the daycares and schools and speak with the kids. At Bolton Elementary they ate lunch with the K-8 students which of course opened up a dialogue in a setting that was comfortable for them. Also before the COVID-19 concern, the officers responded to the local middle and high schools for a game of kickball or basketball during the kids' Physical Education classes.
Twice weekly, this ambitious trio checks in with their ward city council members to assist their constituents with quality of life issues. They spend countless hours at  local senior centers and homeless shelters, providing another avenue for open dialogue to sections of the community who may not always see that opportunity.
It is because of their dedication and devotion to the community they serve that the Cleveland Police Foundation is proud to name Patrol Officers Ryan Lewis, Roger Jones, and Malcom Sutton as its Police Officers of the Month for July 2020.
2020 POMs 2019 POMs 2018 POMs   2017 POMs   2017 POMs   2016 POMs
---
About the Police Officer of the Month Program
The Cleveland Police Foundation – in partnership with the Cleveland Division of Police, Cleveland Police Patrolmen's Association, and the Fraternal Order of Police Cleveland Lodge 8 – is proud of the  Police Officer of the Month program. The program's purpose is to recognize members of the Cleveland Division of Police who not only perform their duties in an exemplary and extraordinary manner, but also excel in efforts that are consistent with a major tenet of the CPF's mission to strengthen the bonds between citizens and police officers… building bridges, creating opportunities for dialogue, and forging positive relationships within the community.
Already aware that officers in the Cleveland Division of Police routinely go out of their way to help their fellow citizens, committee members are not surprised by the large number of candidates. With so many outstanding officers, selecting one recipient per month proved to be a somewhat daunting task.
When asked why bestow these awards, CPF Executive Director Charles W. Lane, Jr. states, "In today's busy world, while some deeds may seem fairly insignificant, we hold out hope that such random acts of kindness may have a significant impact on a person's life. Even if not, it's nice to know that our police officers do for others what they would want someone else to do for a member of their family if the opportunity presented itself."
Police officers across this great country perform similar deeds day-in and day-out, with little fanfare and really not seeking, nor even wanting recognition. We commend these officers for their compassion and personal commitment to making our city a better place to live.