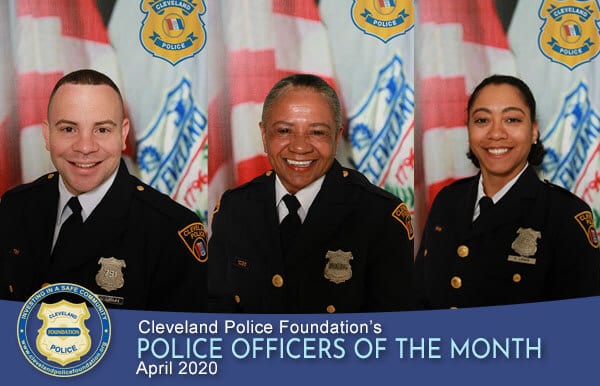 Fourth District Community Engagement Officers P.O. Carmen Hall, P.O. Crystal Lewis, and P.O. Antonio Andino are exceptional. These officers have done some very innovative and creative projects to help create a better relationship between Cleveland police officers and the community served. They are always looking for different avenues to bring together officers and the community and they always have a smile and a great deal of energy wherever they go!
Fourth District Lieutenant Steve Cornacchione says: "The Fourth District CEOs have come up with new and exciting ways to reach the community here in the Fourth District. P.O. Lewis and P.O. Andino started a lunch program that brings together neighborhood officers and students, allowing the kids to interact with the officers. We all know that the younger kids always want to see the officers' equipment, so they made police vests with real Junior Police badges that the kids can try on. A unicycle club was started at one of the local schools, Eastside Arts Academy. This is run by P.O. Carmen Hall."
"The CEOs have set up dinners with community groups featuring a question and answer session with officers focusing on bridging the gap so we as a community can better understand each other. They have made inroads with two high schools–JFK and John Adams–to start getting engagement opportunities between officers and students. Lastly, during these times of social distancing they have continued to reach out to citizens by utilizing social media and continuing to forward complaints to officers in the field."
"Officers Lewis and Andino have been helping maintain morale by setting up meals for their Fourth District family as well as making sure supplies are getting to them in a timely manner. These are just some of the things that the Fourth District CEOs do on a daily basis."
It is because of this dedication to bringing the community and police officers together that the Cleveland Police Foundation is proud to name Patrol Officers Antonio Andino, Carmen Hall, and Crystal Lewis as its Police Officers of the Month for April 2020.
2020 POMs 2019 POMs 2018 POMs   2017 POMs   2017 POMs   2016 POMs
---
About the Police Officer of the Month Program
The Cleveland Police Foundation – in partnership with the Cleveland Division of Police, Cleveland Police Patrolmen's Association, and the Fraternal Order of Police Cleveland Lodge 8 – is proud of the  Police Officer of the Month program. The program's purpose is to recognize members of the Cleveland Division of Police who not only perform their duties in an exemplary and extraordinary manner, but also excel in efforts that are consistent with a major tenet of the CPF's mission to strengthen the bonds between citizens and police officers… building bridges, creating opportunities for dialogue, and forging positive relationships within the community.
Already aware that officers in the Cleveland Division of Police routinely go out of their way to help their fellow citizens, committee members are not surprised by the large number of candidates. With so many outstanding officers, selecting one recipient per month proved to be a somewhat daunting task.
When asked why bestow these awards, CPF Executive Director Charles W. Lane, Jr. states, "In today's busy world, while some deeds may seem fairly insignificant, we hold out hope that such random acts of kindness may have a significant impact on a person's life. Even if not, it's nice to know that our police officers do for others what they would want someone else to do for a member of their family if the opportunity presented itself."
Police officers across this great country perform similar deeds day-in and day-out, with little fanfare and really not seeking, nor even wanting recognition. We commend these officers for their compassion and personal commitment to making our city a better place to live.