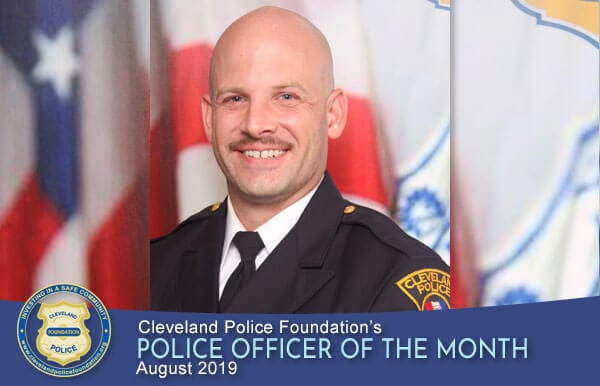 Cleveland Division of Police Patrol Officer Taylor Bohlen is assigned to the NICE Unit (Neighborhood Impact Community Engagement), so it wasn't very surprising that he recently played a significant part in saving a life. Ashley Spencer was walking down the stairs at Cleveland City Hall when she experienced a severe asthma attack and frantically waved to Officer Bohlen, who was standing nearby. Ashley collapsed while PO Bohlen assessed the situation, could not find her pulse, and immediately administered CPR, saving her life.
After the incident Ashley recalled, "I was taking my inhaler and it wasn't working and in a matter of seconds I went down for the count."
Officer Bohlen remarked, "I was able to put my prior work experience to use as well as the training I received from the department. Combining that with being at the right place at the right time made everything come together." Officer Bohlen also made it a point to visit Ashley at the hospital to check on her condition.
Officer Bohlen's immediate supervisor, Lieutenant Arneil Rose commented, "I first met Patrol Officer Taylor Bohlen at the Fifth District. From the beginning you could tell he was serious about his career path. He already had a label of service about him from his previous EMT training. Officer Bohlen is new to the NICE Unit, but I remember from his interview that he expressed that he wanted to be of service to the NICE unit. How lucky we and the citizens of Cleveland are to have him."
It is because of his caring for the citizens he serves and his devotion to his work that the Cleveland Police Foundation is proud to name Patrol Officer Taylor Bohlen as its Police Officer of the Month for August 2019.
2019 POMs 2018 POMs   2017 POMs   2017 POMs   2016 POMs
---
About the Police Officer of the Month Program
The Cleveland Police Foundation – in partnership with the Cleveland Division of Police, Cleveland Police Patrolmen's Association, and the Fraternal Order of Police Cleveland Lodge 8 – is proud of the  Police Officer of the Month program. The program's purpose is to recognize members of the Cleveland Division of Police who not only perform their duties in an exemplary and extraordinary manner, but also excel in efforts that are consistent with a major tenet of the CPF's mission to strengthen the bonds between citizens and police officers… building bridges, creating opportunities for dialogue, and forging positive relationships within the community.
Already aware that officers in the Cleveland Division of Police routinely go out of their way to help their fellow citizens, committee members are not surprised by the large number of candidates. With so many outstanding officers, selecting one recipient per month proved to be a somewhat daunting task.
When asked why bestow these awards, CPF Executive Director Charles W. Lane, Jr. states, "In today's busy world, while some deeds may seem fairly insignificant, we hold out hope that such random acts of kindness may have a significant impact on a person's life. Even if not, it's nice to know that our police officers do for others what they would want someone else to do for a member of their family if the opportunity presented itself."
Police officers across this great country perform similar deeds day-in and day-out, with little fanfare and really not seeking, nor even wanting recognition. We commend these officers for their compassion and personal commitment to making our city a better place to live.