CPF Community Partner of the Month Award Recipients
2020 Community Partner Award Recipients
The Cleveland Police Foundation has implemented the Community Partner of the Month Award, given to individuals from the community who strive to support the mission goals of The Cleveland Division of Police and the CPF. These good folks support law enforcement and continue on a daily basis to help improve their individual neighborhoods. Award recipients receive a plaque and appropriate recognition. Thank you to these achievers!
February

Community Partner of the Month

John Gogerty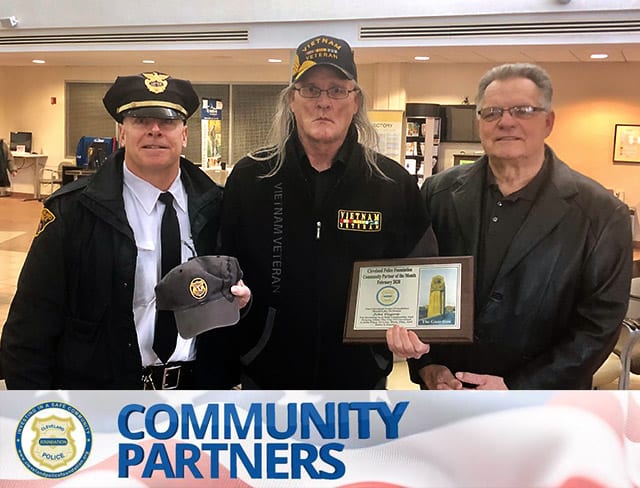 This past December, a 68 year-old Vietnam veteran, John Gogerty, was at Public Square when he witnessed a suspect escape from a Cleveland police car.  The suspect had been arrested on a warrant tied to a burglary ring when he broke the door handle and escaped from the back seat of the vehicle.
The police officers ran after the suspect and captured him, but the man resisted.  Gogerty saw the officers struggling to maintain control so Gogerty jumped in to assist, though in the process, injured his right hand.
Gogerty says that despite his injury, he would again make the effort to help anyone who needed assistance.  He says he knows that the police officers appreciated the support he provided.
Thanks to John, the suspect was indicted along with several others for an eight-month burglary spree!  The accused will also be facing additional charges related to this attempted escape and resisting arrest incident.
The Cleveland Police Foundation wants to thank John Gogerty for these efforts and for putting himself in harm's way to back our Cleveland police officers.
It is because of his courage to protect the community and Cleveland Police Officers that the Cleveland Police Foundation is honored to name John Gogerty as its Community Partner of the Month for February 2020.
January

Community Partner of the Month

Dick Clough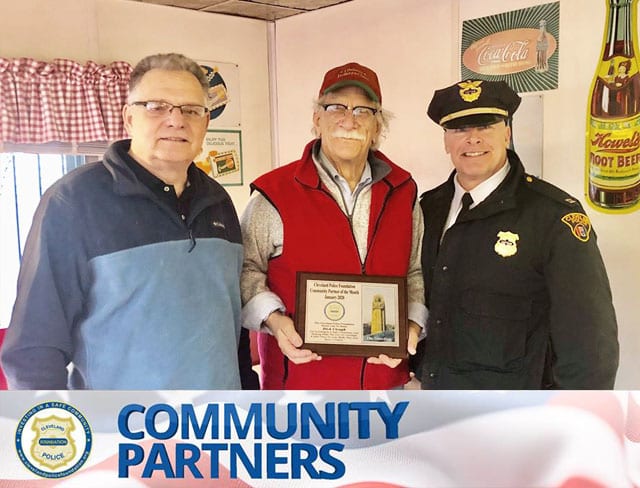 For the last 35 years, Dick Clough has taken his Tour of Good Cheer event on the road during the Christmas season to reach out to those in need throughout the community!
Dick and his band of dedicated volunteers travel in a caravan guided by Cleveland Police officers with Santa in tow.  They go to various locations throughout the city delivering presents and singing Christmas carols.  For Christmas 2019, the group made ten stops including Charity Hospital, Mt. Carmel and Garden Valley.
Besides being the CEO (Chief Everything Officer) for the Tour of Good Cheer, Dick also finds time for other organizations.  He is a board member and secretary for the Cleveland Police Foundation, attends and donates stuffed animals for the CPF sponsored Cops for Kids Fishing Events, and always shows up at the five CPF District Awards ceremonies.
It is because of his caring for the community and dedication to the Cleveland Division of Police that the Cleveland Police Foundation is honored to name Dick Clough as its Community Partner of the Month for January 2020.