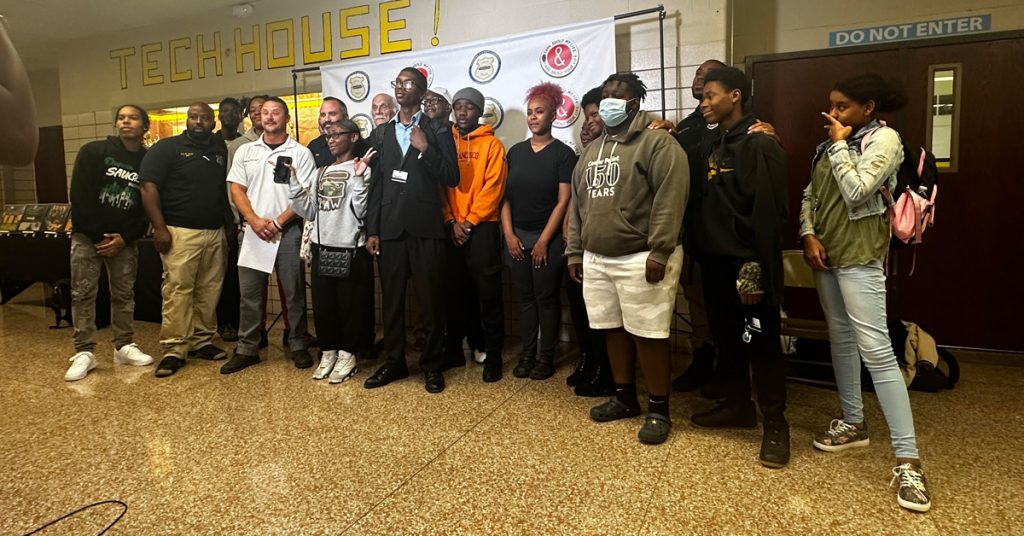 East Tech Students and Third District officers who participated in the project gather for a team photo.
The Cleveland Police Foundation, officers from the Third District of the Cleveland Division of Police, and students from the East Tech Boys & Girls Club were all in attendance September 1 at East Tech High School for the unveiling of Phase One of an officer and student mural project known as "Messages of Hope."
The purpose of the art is to facilitate conversations between officers and students to improve relationships. 
The Foundation received an approved grant from the Sovereign Order of St. John of Jerusalem to fund the pilot mural which involved East Tech students and Third District (downtown area) police officers.
The project is being directed by community-arts advocate Rickey Lewis, who also obtained funding.
This Phase One event featured numerous panels.  The finished mural is expected to be unveiled at Third District Headquarters late this October. 
Below: East Tech student participant Cordae Scott relays his experience of working with CPD officers on the mural project