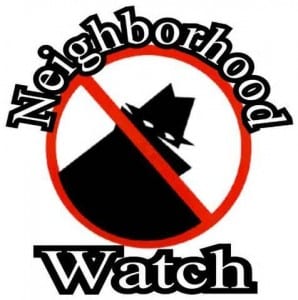 SUSPICIOUS ACTIVITIES    (vehicle description reporting checklist)
When reporting the description of a suspicious vehicle in your neighborhood to the police, try to supply the following information:
1) License plate number – if possible the entire number
2) Color (black over white, etc.)
3) Size, make and model
4) Special characteristics:
       * Dents or damage to car
       * Broken windows
       * Stickers or decals on bumpers or windows
       * Loud Muffler
       * Decorative paint
       * Extra antenna(s) or mirrors
       * Special rims, tires, etc.
SITUATIONS INVOLVING VEHICLES
 1) Slow moving vehicles, especially without lights, following an aimless or repetitive course.
2) Parked vehicle occupied by one or more persons, especially significant if at an unusual hour.
3) A vehicle you don't recognize in a neighbor's drive being loaded with valuables.
4) An abandoned vehicle, old or new, with or without license plate.
5) Persons loitering around parked cars.
6) Persons removing mechanical parts or accessories.
7) Apparent business transactions conducted from a car around a school, park, or neighborhood.
8) Person(s) being forced into a vehicle.
9) Objects being thrown from a vehicle.
 SUSPECT DESCRIPTION
Sex
Race
Age
Height
Weight
Hair/Facial Hair
Glasses (type)
Jewelry
Tattoos
Complexion
Scars/Marks
Hat (color, type)
Tie
Coat
Shirt
Pants/ Shoes
FACIAL APPEARANCE
Wrinkles
 Hair Style and Texture
 Mouth and Lips
 Mustache
 Sideburns
 Size and Shape of Eyes
 Shape of Nose
If possible try to remember what the suspect said during the course of the crime, and which direction he or she went. At no time should you put yourself, or others in danger while attempting to obtain a description of a suspect or a vehicle. Call 911 immediately.