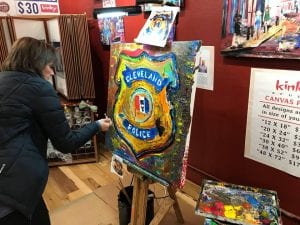 The Casino Royale event at Trinity Cathedral, 2230 Euclid Avenue, will be raising funds for Cleveland Cops for Kids outreach efforts.  To be raffled is this striking 31" x 31" painting, created by local artist Shaun Kinley.
Shaun teaches visual arts at St. Edward High School and coaches wrestling.  His colorful acrylics have been collected by professional athletes, businesses, and private clients during his twenty years producing art professionally.  Shaun's work is available locally at the ONLY IN CLEV store at Kamm's Corners.
Hors d'oeuvres, beer, beverages, entertainment, raffles, and games add up to a fun night to support our local kids!
For ticket information click:  Cops for Causes