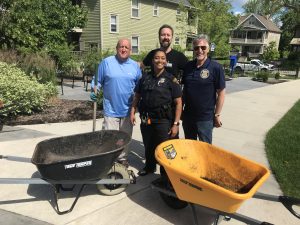 Tuesday June 22nd was Owens' Memorial Park spruce-up day as CPD officers, community partners, Cleveland Police Foundation board members and of course former CPD Captain Keith Sulzer spread mulch and planted flowers at the memorial site!
It was a true labor of love as this dedicated group of volunteers worked into the afternoon to make sure everything was in order and sparkling clean on this cool but sunny June day.  The park is well-established now, being dedicated in November 2019.  With the help of the family of Derek Owens, the Cleveland Police Foundation, and support from the Western Reserve Land Conservancy, St. Luke's Foundation, Cleveland Foundation, LAND studio and other community partners, this police-community collaboration was brought to fruition.
A big thank you goes out to all that participated, especially CPF board members Jimmy Craciun and Steve Anthony.  All took time out of their busy day to help clean up this park, dedicated to Our Fallen Hero in Blue Derek Owens.
Submitted by Bob Guttu, CPF Community Partnership Coordinator