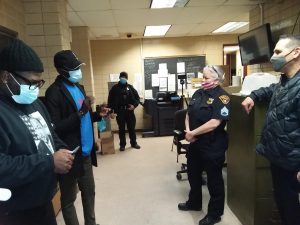 To give back during Black History Month, community partners joined together to honor police officers at the Fourth District.  Coffee and donuts were shared to show the Cleveland First Responders how much their service is appreciated.
Thanks to these community partners helping on their first project: Margaret W Wong , Peaches Ledwidge and Geoffrey Ledwidge , Michael A. Bailey and Laquania Sheree Graham.
If you would like to chip in and help to honor Cleveland's First Responders, please contact:
Billy L. Sharp at billyl.sharp2015@gmail.com or Dr. Yvonne Pointer at yvonnepointer@aol.com.
A very special thanks as well to Jeff Brown Jr.and to Terrance Dunlap for an exclusive T-shirt #goodstuff  for retired Captain Keith Sulzer!
Photos by Louis Moore