Please take the time to read this narrative by Officer Francel. This is exactly what community policing should look like in Cleveland. Officers Francel and Henderson really took the time to get to know the people they serve!! Great job!!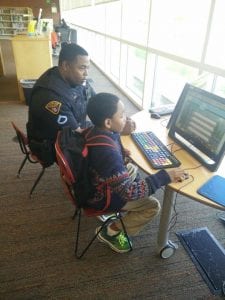 "Today started off slow but once we got rolling we had a great day.
We started off at the Harvey Rice Library where we met a juvenile named Rayshaun. Rayshaun is a young man at risk of following trouble makers, but he did not hesitate to approach Officer Henderson. Rayshaun remembered Henderson from being a prior victim of a crime.
We met Keela and Andrea in the library. We took a wide photo as they were visiting the library and they did not want to be singled out. They were very interested in us so we spoke to them briefly, which they were receptive of.
Next in the library were Tyler Dixon and his mother Michelle Dixon. Tyler wants to become a police officer. In the pic with me, you can see him playing a Lego computer game where you direct safety forces around in a helicopter and police car. He explained to us that he just had to break things off with his kindergarten girlfriend. I told him to be patient, and let the girls come to him. He replied, "Sometimes you gotta watch out when they're coming for you". He was right. Such wisdom from a kindergarten student. He was bright, social, polite, and a lot of fun. He and P.O. Henderson were playing the game together. Lance is a pretty big guy, but didn't think twice about sitting in a tiny chair to play video games with Tyler. Tyler's mom, Michelle, was very supportive of us and what we do. She felt bad that we did not get the respect for our jobs and that the media portrays us in a negative light. She is a working mother who enjoys knitting, crocheting and wants to learn sewing. I immediately gravitated to her as my grandmother taught me how to sew and crochet as a child. Michelle is a wonderful lady who visits the library twice a week with her son. Tyler was fascinated that I am part of an arcade here just outside Cleveland, that I like roller coasters, and love to do fun things. Since he wants to become a police officer himself, I told him that you can still be a big kid and be responsible at the same time. I look forward to keeping in contact with them as they are fantastic people.
Leaving the library, we met Kamani. Kamani wants to be a scientist, working with animals. I am always happy when the younger generations want to do something helpful, that requires education, and is not the typical response that we get from the young men and women. I told him that he can do whatever he wants in his life, but suggested he find a career he loves so that he will never feel like he is going to work. I tried to plant the seed with him to keep others from stifling his dreams. I told him that when he gets a little older, to start talking to higher education admissions, guidance, and financial aid offices. I suggested Tri-C as a start and then go to other schools of his choice as there is assistance out there for him to fulfill his goals, but he has to know it is there and seek it out. Too many of our younger generation feel helpless to fulfill their dreams. They just do not know how to get it started and how to find the resources for them. If we can get the ball rolling, these motivated kids can achieve great success.
At Harvey Rice School, we met with personnel there. Colette and Doreen Welch who work at the school were explaining to us how the students can win 1 of 18 bikes each month for perfect attendance. They have a row of bicycles at the entrance reminding the kids of the fruits of their labor.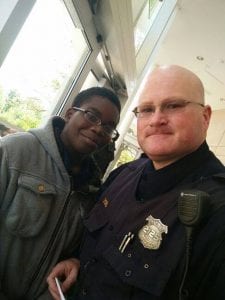 Next we went to the Intergenerational School. This was my first visit there. We met Security Officer Grapentine. Ms. Bell walked us through the school and filled us in on the number of students, programs, and introduced us to staff. We met the cleaning lady Mary who has been cleaning in that building for 20 years.
We were introduced to Mr. Earl who ran the Boy's and Girls Club. Mr. Earl believed in being fair with the kids but maintaining control and respect. The children listened to every word he said. An impressive task when dealing with that many kids. But the kids made it easy. These were students who were very social, outgoing, inquisitive, and not afraid to greet us. We felt like celebrities when about 75% of the kids wanted to shake our hands. Lance and I were asked for our autographs by about 10 of the students. Now we all know that we do not do this job for accolades, but there is something about signing your autograph to a young person that really puts your importance into perspective. I don't know who it meant more to, us or the kids. Many of the kids asked us what we were doing there. They were guessing that someone was misbehaving. I told them that we get tired of dealing with the bad kids most of the time, and that we wanted to meet the good kids. The good kids deserved good experiences with us. Not having the time to do so is a real but lousy excuse. These interactions with the kids remain with them and let them get to know the real officers, not what the media likes to portray. Linda, a teacher, was happy to see us and introduced us to her two tables of award winning kids. I met a very shy young lady which I told her that I was quiet and shy as a kid too. I encouraged her that she would grow out of it and talk up a storm!
We met with Ms. Combs outside of the Harvey Rice school. Ms. Combs had an issue about a friend having her ID. She said that she could get the ID back but I suggested she call us if the friend gives her any trouble.
A brief foot patrol and special attention in Shaker Square and some patrol in Mount Pleasant ended our shift.
Everyone we met impacted us today. We do not have the opportunity to experience positive days like days like this. It is a heck of a mental reset on why we do what we do."
P.O. Raymond Francel #2125