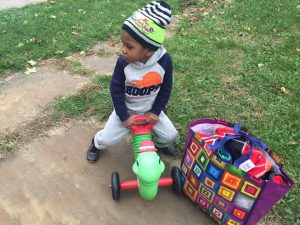 Recently, Patrol Officers Salvatore Santillo and Shawn Wohl responded to a call for kids left home alone.  Upon entering the residence with members of the Department of Children and Family Services, the officers found the three boys, ages 1, 3 and 6 confined to a single room in deplorable conditions.  The children were placed with their grandmother while their mother, who had left them home alone for an undetermined amount of time, was arrested.
Since then, Officer Santillo and Officer Wohl have been making regular visits to see the boys at their grandmother's home.  After PO Wohl shared the story on Facebook with an appeal for a few things, donations poured in!
The officers were able to drop off toys, coats, clothing, school supplies, and diapers to the delight of Grandma and the three boys.  The brothers are on the road to good health with stability and happiness!
Many thanks to all the generous donors of the community and a huge thank you to Officers Santillo and Wohl for exemplifying Cleveland's Finest!