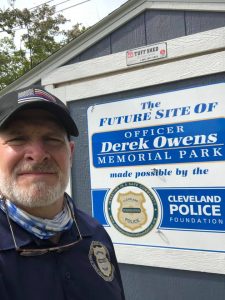 Retired Cleveland Police Captain Keith Sulzer (shown left) says "Cutting the grass at Derek Owens' Memorial Park is a labor of love, and to see the families there makes it all worthwhile!! Today a group of older men were there doing their weekly body weight workout and commented how great it is to have this oasis in their neighborhood!!"
The park was dedicated in November 2019 with the help of the family of Derek Owens and the Cleveland Police Foundation— joining together with support from the Western Reserve Land Conservancy, St. Luke's Foundation, Cleveland Foundation, LAND studio and other community partners.
There are reflective walking paths made from the sandstone foundations of demolished neighborhood structures, new plantings and trees- including favorites of Officer Owens- and a play set, courtesy of the Cleveland Browns.
A beautiful testimony to the strength of police and community working together!
Officer Derek Owens' Memorial Park is located at 10404 Parkview Avenue in Cleveland.