The Cleveland Police Foundation proudly announces that the recipients of our Community Partner of the Month Award for November 2020 are Alex & Dana Boone and the Rhino Boone Family Foundation.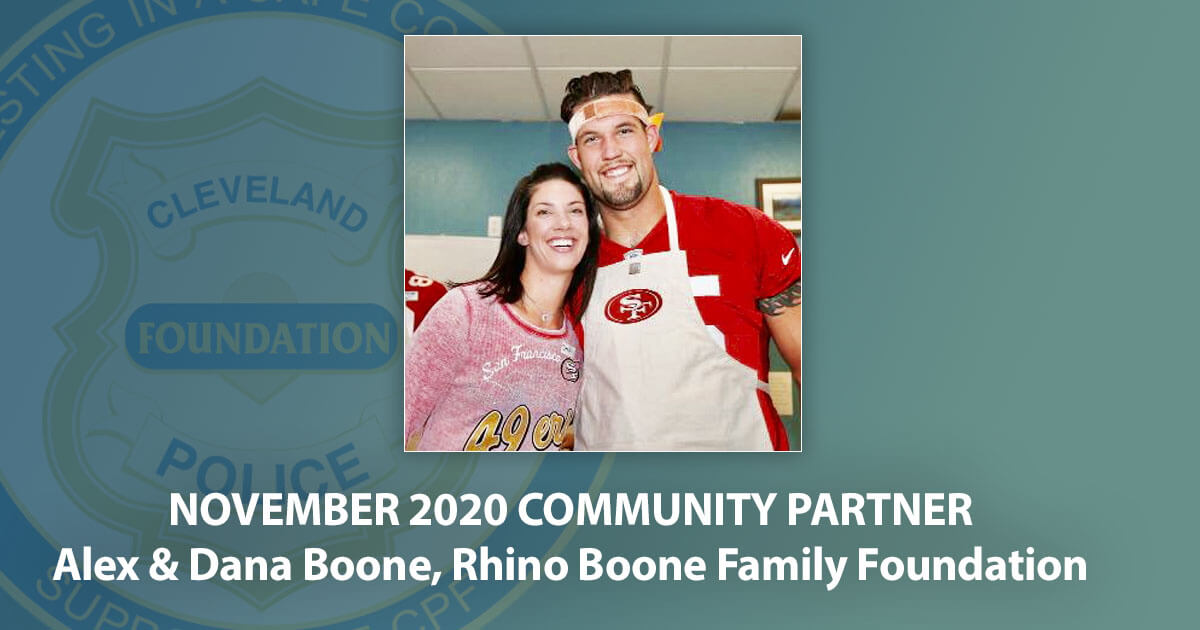 Native Clevelander Alex Boone has been a long-time supporter of the Cleveland Division of Police and the Cleveland Police Foundation. He and his wife Dana oversee the Rhino Boone Family Foundation.
Alex, who played football at St. Edward High School and The Ohio State University, went on to play for nine years in the NFL with the San Francisco 49ers, Minnesota Vikings, and Arizona Cardinals.
While in Cleveland, Alex often accompanied police officers to MetroHealth to visit the children in the Pediatric Unit, he supported the CPF pancake breakfast fundraisers and gave much financial support.
Alex and Dana and the Rhino Boone Family Foundation recently sent the CPF a large donation on behalf of Captain Keith Sulzer's retirement from the Cleveland Police. This significant contribution was split up to support CPF's umbrella charities and interests including Officer Derek Owens' Memorial Park, Cops for Kids, The Heroes Fund, and the Cleveland Police Mounted Unit Charitable Trust! A big thanks for this generous and thoughtful donation.
It is because of their understanding of the importance of supporting the Cleveland Police and investing in Cleveland neighborhoods that the Cleveland Police Foundation is honored to name Alex and Dana Boone and the Rhino Boone Family Foundation as its Community Partners of the Month for November 2020.