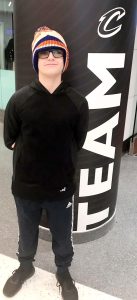 Cleveland PAL kids and their families were invited to a CAVS game on November 15th!
Even though our Cleveland team fell short of victory, the fans that attended from the gym had a great time.  Besides the fun of the basketball game, all of the children received a $25 gift card for the Cavaliers team shop (courtesy of the CLE PAL).
A special thank you to the Tickets for Kids organization for donating the tickets and providing food gift cards to Rally's for all those that attended.
A special thank you to Dean Gallagher and crew who have supported CLE PAL for many years!
Executive Director Robert M. Kumazec, Jr., Cleveland Police Athletic League, 1300 Ontario Street, Cleveland, OH 44113, (216) 623-3360, clevelandpal.org, "EVERY KID NEEDS A PAL!"