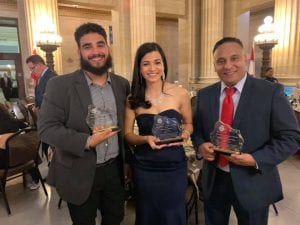 On October 11th, National Hispanic Heritage Month 2019 was celebrated as it came to its close (September 15-October 15).  A special reception and dinner featuring Hispanic cuisine was held in the City Hall Rotunda of the City of Cleveland.
Cleveland Division of Police Sergeant Emmanuel "Manny" Velez was recognized with the Outstanding Community Leadership Award.  The sergeant has worked tirelessly for the mission of the Hispanic Police Officers' Association as Vice President of the HPOA!
Other recipients of the Outstanding Community Leadership Award were Rosa Cruz and Ricardo Leon.
Excellent event with appreciation from all!
L to R:  Ricardo Leon, Rosa Cruz, Sergeant Velez