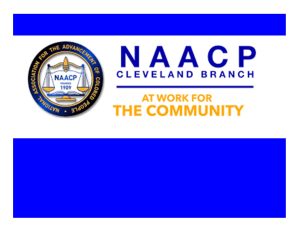 At the 109th Anniversary Freedom Fund Dinner on Dec 5th at the Renaissance, the Cleveland Chapter of the NAACP honored India Pierce Lee, Senior Vice President, Program at The Cleveland Foundation as the 2021 Corporate Honoree.
The dinner was a true celebration of the work the NAACP has done in Greater Cleveland and nationally. The NAACP has a strong and long history of fighting for civil rights, social justice, and advocating for educational and economic opportunities for the citizens of the communities served.  Towards that end, the MSNBC Commentator, Tiffany Cross was the keynote speaker.
The NAACP's mission is to ensure the political, educational, social, and economic equality of rights of all persons and to eliminate race-based discrimination.  The CPF prides itself on the diversity of its board and support of these values.