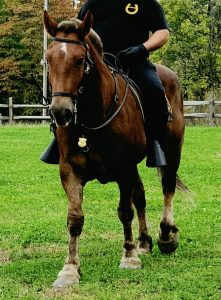 All, please say hello to CPD Mounted Unit horse, "Jim."  He is sporting the new badge that the Cleveland Police Foundation purchased for him and the other horses housed at the Mounted Unit.
Sergeant Joe O'Neill expressed his appreciation of these gifts and for the support by the CPF of the Mounted Unit, one of the CPF's umbrella charities.
The impressive mount in this photo was named after one of the Cleveland Police Fallen Heroes, Detective Jim Skernivitz who was ambushed and murdered last year.  What an honorable way to remember this well liked and hardworking dedicated officer!
Good luck "Jim" and wear that badge proudly, and thank you Detective Skernivitz for your service…you will never be forgotten!