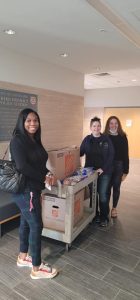 Amanda Cline, a 14-year veteran dispatcher not only keeps our officers safe, she goes above & beyond to make sure kids in our community have a Halloween costume.  She has been doing this for 8 years straight!
This year, Amanda partnered with police from the Third District, Dispatchers from CPD, FIRE, & EMS, as well as the Hispanic Police Officers Association of Cleveland to make this happen.  Donations will be made to area Domestic Violence shelters!
A special thank you goes to Lisa Fox from the Home Depot and Evelyn Badeas for their generous donations.  And thank you as well to The Cleveland Police Foundation for facilitating this effort!