A great letter of support for CPD's effort to engage the students from Cleveland in a positive conversation about the relationship between the police and the community we serve.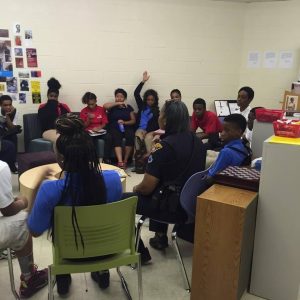 JFK – Eagle Academy (a Cleveland Metro Public High School) opened in the summer (yes, summer) in 2013 with a commitment to social justice and allowing students and teachers to create the curriculum together. In response to comments from students about their experiences in life and their knowledge of current events,they asked if I had would host a seminar about the relationship between the police and the community. Since it went well, and the students expressed interest in investigating the issue in more depth.
Both last year and this year, the Cleveland Police Department has been incredibly supportive of our efforts. I have appreciated the way that they have volunteered their time and energy to have honest conversations with our students. In early September of 2015, Captain Sulzer and Officer Britten did a wonderful job of engaging with our students. At the end of the seminar last year, students cited the visits from the police officer as useful in terms of seeing issues from another perspective and for increasing the amount of trust they have in the police. I am certain the same will be true this year.
It is my sincere hope that we can continue to cultivate the relationship between our students and the community. We all learn from it. Thank you from JFK – Eagle Academy to Captain Sulzer, Officer Britten and all of the Cleveland Police Department.
Charles Ellenbogen
ELA Teacher
Eagle Academy