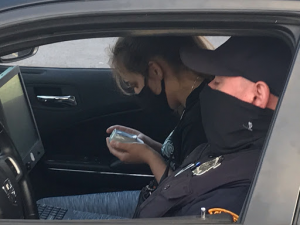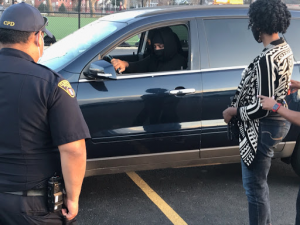 The Citizens Police Academy of the Cleveland Division of Police gives citizens an opportunity to learn first-hand the duties and responsibilities of police officers.  Participants also acquire a deeper understanding of the policies and procedures which help guide a police officer's decision in his or her everyday assignments.
As I attended the latest class along with the CPF's Executive Director Rick DeChant, I experienced this process as held at St. Ignatius High School.
The citizen-students were observing proper procedure in handling traffic stops.  They all had the opportunity to learn how to pull a vehicle over, verbally engage and if necessary, arrest an individual.  All this guidance was under the supervision of Officer Freddy Diaz and the members of the Community Relations Unit.
CPD Citizens Police Academy VIDEO
Any interested citizen is welcome to join this 6-8-week course.  Please call the Community Relations Unit for more information by dialing 216-623-5080.
Submitted by Bob Guttu, CPF Community Outreach Coordinator