Individuals, Families and Business Organizations Are Invited to Make an Investment in Public Safety by Joining with the Cleveland Police Foundation to Achieve a Safer Community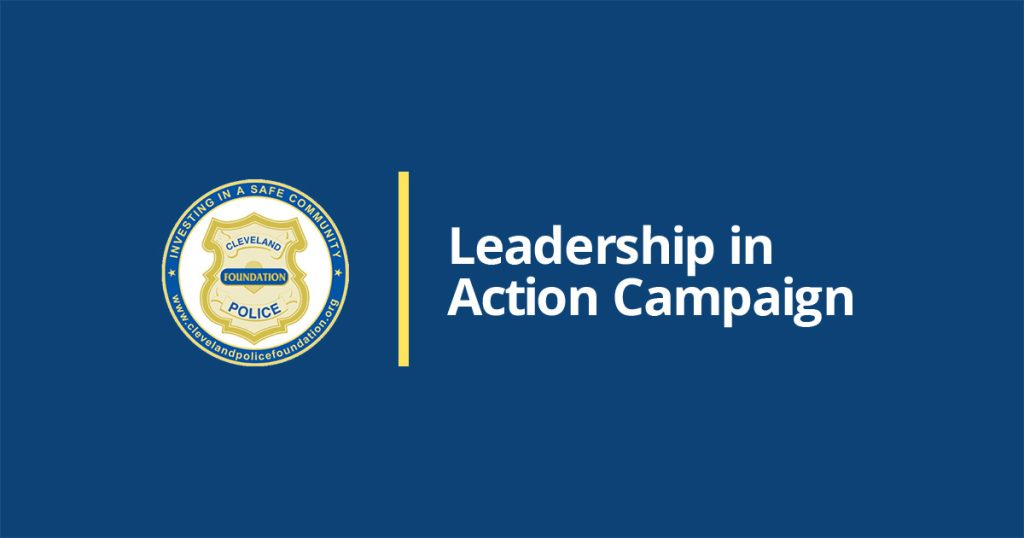 Cleveland, OH (June 29, 2023)—The Cleveland Police Foundation has launched the Leadership In Action Campaign to raise funding for investments in programs designed to build bridges between police and the community, and combat crime.
Priority projects include the introduction of technology to fight crime in the city's neighborhoods to save lives and track down perpetrators; funding for the Safety Career Pathway Program being developed to engage with high school graduates and equip them for successful careers in public safety; facilitating dialogues between cops and kids through fine arts projects, fishing and athletic events; and supporting the welfare and mental health of Cleveland police officers.  
"For just pennies a day, Individuals, families, and business organizations who join the Foundation as Friends play a critical role in helping underwrite these and other efforts to improve police effectiveness and community relations," notes Dick Clough, foundation president, and adds, "together we can make a difference."
Friend Membership levels for individuals and families range from $50 to $150 with perks including courtesy cards and lapel pins, the acclaimed Foundation newsletter, and recognition on the Foundation's web site.  
Business Friend Membership levels start at $250 with similar perks plus website logo placement, and a collectible mini police badge awarded at the premium business level.
The Foundation "Membership Courtesy Card" entitles our Friends access to special events and opportunities to connect directly with police officials to discuss and resolve needs and issues.
Although independent of the city and Division of Police, the Foundation functions as the Division's fiduciary and manager of philanthropic contributions. Individuals and organizations wishing to make donations to the police must do so through the Foundation.
According to Clough, the Foundation also supports Cleveland Police Charities including Cleveland Cops for Kids, Cleveland Police Athletic League, Cleveland Police Historical Society & Museum, Cleveland Police Mounted Police Unit Charitable Trust, Pipes & Drums of the Cleveland Police, and the Cleveland Police Honor Guard.
The Cleveland Police Foundation is a recognized 501 (c) (3) and all contributions are tax deductible.
Visit www.clevelandpolicefoundation.org and go to the Donate link on the home page or mail donations to: Cleveland Police Foundation, 2301 Payne Avenue, Suite 201, Cleveland OH 44114. For more information write rdechant@clevelandpolicefoundation.com or call (216) 536-6776.