Officer Hunter Goon goes above and beyond to uplift a grieving child, earning him the "Officer of the Month" accolade from Cleveland Police Foundation for July 2023.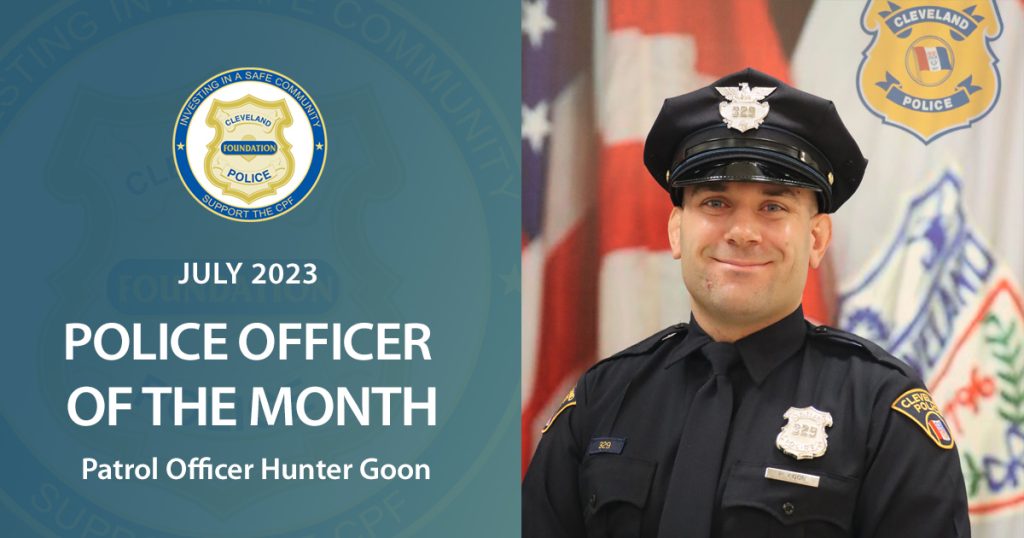 This past July, Patrol Officer Hunter Goon was working by himself when he was flagged down by a DoorDash driver who was accompanied by his young daughter. Officer Goon learned from the driver that his daughter was very upset over the passing away of her small kitten the day before, and he invited her to sit in the front seat of his police car.
He let her play with the strobe lights and hung out with her for quite some time which eventually brought a smile to her face. Even though he cheered her up considerably during his time with her, he was determined to do something more. A lot more.
Officer Goon learned where the daughter lived before he continued his shift and he went to the City Kennel the next day and purchased a brand new kitten. He then stopped by the little girl's home and surprised her with this bundle of joy, bringing a huge smile to the face of this little child.
I contacted Officer Goon's immediate supervisor, Sgt. Eric Newton, who stated, " Patrol Officer Goon's act of kindness seemed like no big deal, according to him. However, the gesture had a huge impact on this little girl, and the smile on her face said it all. It is also an honor to nominate him for a Chief's Letter."
It is because of his compassion and caring that the Cleveland Police Foundation is indeed proud and honored to name Patrol Officer Hunter Goon our Police Officer of the Month for July 2023.
~ Bob Guttu, CPF
(Nominated by Third District Sgt. Eric Newton and Third District Captain Tim Maffo- Judd)
(Nominated by Homicide Sgt. Joe Rini)