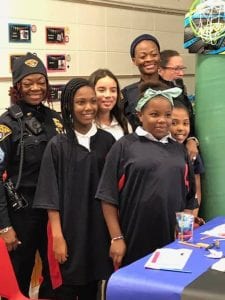 The Cleveland Police Foundation and Cops for Kids was honored to support the Sea of Blue's Safety Forces Day at Douglas MacArthur Girls Leadership Academy!!
The Academy, located on Cleveland's Far West Side in the First District, is part of the Cleveland Metropolitan School District.  The girls enrolled range in age from pre-kindergarten through eighth grade.
At the event, one male police officer was allowed into the mix, but only because he came bearing fifty awesome cupcakes from Bella Mia!!  LOL!!
Great job to all of the safety forces that participated and to Sea of Blue!!  Girls Rule!!