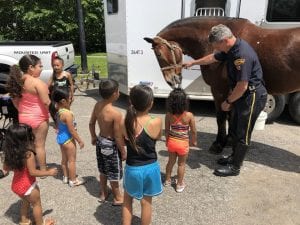 The 2019 Halloran Park Summer Children's Entertainment event theme on Friday June 14 was Farm in the City!!
The kids and families had a great time with the farm animals and pony rides, plus CPD's Mounted Unit Officer Herron and steed Jack were on hand to greet the crowd!!
To top it off, the CPD ice cream truck was there to pass out ice cream courtesy of Cleveland Cops for Kids!!
Great job by Halloran Recreation Manager Maryann Koziel Fields, Westown Development's Rose Zitiello, and City of Cleveland Councilwoman Dona Brady!!
A big thanks to CPD's First District officers, Community Policing, and Mounted Unit for participating. Great way to welcome summer!