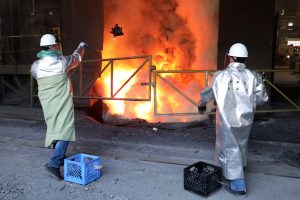 The Cleveland Cliffs Steel Mill was the location in March 2021 to dispose of over 400 long guns and handguns that were turned in at the City of Cleveland's Gun Buy Back Program (the last event was October 2019 due to the pandemic).
Members of the Cleveland Division of Police Ordnance and Property Section in fire resistant garb pitched in the unwanted weapons in an explosion of flames.
Although it is unknown how many lives were saved by destroying these weapons, we can all sleep better knowing they were removed from the streets and neighborhoods of our communities!
Submitted by Bob Guttu, CPF Community Outreach Coordinator
Photos by Ruggero Fatiga, City of Cleveland