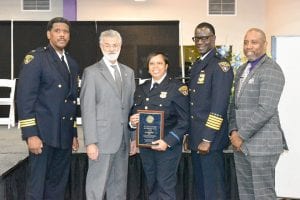 On Thursday October 17, 2019 the Fifth District Police Community Relations Awards Ceremony was held at the Cleveland Job Corps on Coit Road.
An enthusiastic crowd was present to help honor both citizens and police officers from the Fifth District community who went beyond the call of duty.
On hand to honor these recipients were Mayor Frank Jackson, Chief Calvin Williams and numerous members of the Cleveland City Council and Administration.
The Cleveland Police Foundation recognized and presented plaques to deserving individuals including Officer Sabrina Walker, Cleveland Job Corps Liaison Harriet Hadley, and Open Pitt Barbecue owner Malinda Rivers.
Upon completion of the awards presentation, a fine meal was provided by the Fifth District Community Relations Board.
Congratulations to all the recipients and thanks to all the family, friends, and citizens from the community that attended and made this event a success.
Submitted by Bob Guttu, CPF Community Outreach Coordinator
From left:  Fifth District Commander Sammy Morris, Mayor Frank Jackson, Patrol Officer Sabrina Walker, Chief Calvin Williams, City of Cleveland Community Relations Board Director Grady Stevenson
Photos:  Fifth District Police