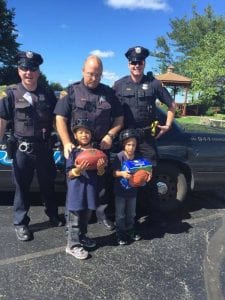 Fifth District Officers received a special request from the staff of the Hospice of the Western Reserve on East 185th Street: to attend a 7 year old's birthday party. Joey, who turned 7 on September 11, was asked what super hero he wanted on his birthday cake and he requested a police officer! Joey's mother is a patient at the hospice, so the family planned to celebrate there.
Sergeants Tim Gill and Dave Skrletts made sure to pass the word along and grab some gifts (which we rewrapped complete with police line tape bows) for his special day. Sgt. Gill reached out to the Cleveland Police Foundation and CPF provided an official Cleveland Browns football for Joey and a basketball for his brother Michael. When the officers showed up to surprise Joey, he was all smiles. 5th District officers came by for hugs, hand shakes, pictures and gifts. Joey and his little brother, Michael, each received gifts and the officers sang happy birthday to Joey with his family in attendance. Great time was had by all
Officers in attendance: Sgt. Tim Gill, Sgt. Dan Crisan. Sgt. Lisa Steel. Officer Adonna Perez. Officer Mike Urbania. Officer Johnson (PPO). Officer Gary Stiegelmeyer. Officer Dan McCandless. Officer Coleman. Officer Hageman. Officer Mike Maliszewski and Officer Mike Cox. With others.
Happy Birthday, Joey! We were so happy to celebrate your special day with you! You are our hero!