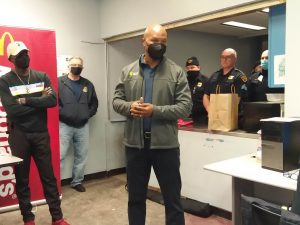 A big thank you goes out to Cleveland Police Foundation board member, Dr. Yvonne Pointer and her "Crew" for once again feeding our Heroes in Blue.  The grateful recipients of this outing were Second District officers who lined up for food goodies consisting of McDonald's breakfast sandwiches, doughnuts, and coffee.
Dr. Pointer and her Crew have been feeding Cleveland Police officers during the COVID-19 pandemic. The donated dinners have come from Angie's Soul Cafe, Chik'n Filet, and B&M Soulfood Restaurant. Additional donations have been raised by Hope Haven, the Jeff Brown Radio Show, and the Urban League Guild.
Once again…thanks to everyone who contributed.  Your generosity is greatly appreciated!