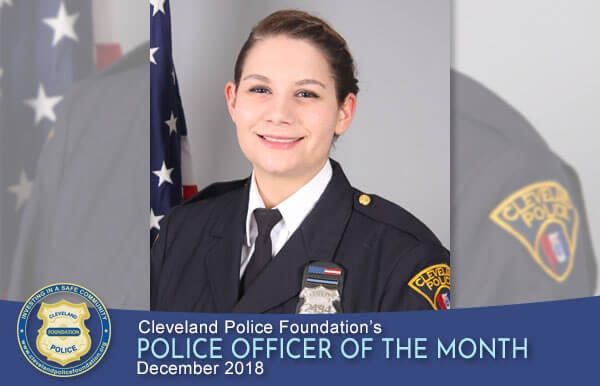 First District Patrol Officer Samantha Haggerty has been a Cleveland Police officer for a little over two years, but she has grasped the concept of community policing way beyond!  Samantha reached out to the Cleveland Police Foundation to purchase a bicycle for a 13-year-old young man with special needs after his bicycle was destroyed by a vehicle.  Before we could respond she decided to buy the young man a bike and bike helmet out of her own pocket.  Samantha also helped CPF distribute turkeys to those in need during Thanksgiving. The following narrative is from one of Officer Haggerty's supervisors:
Commander, I would like to make you aware of the excellent community police work performed by PO Haggerty on Friday October 12, 2018 while working on B platoon.  A 13-year-old boy with special needs was riding his bike on his way home to Parkmount Avenue from school. While crossing Lorain at Rocky River Drive, a car hit his bike. Luckily, he was not injured as he was able to get off the bike before it was struck.  But his bike was not so lucky and was broken beyond repair. PO Haggerty, who handled the assignment, felt bad for the boy having lost his bicycle. The following day while working on A platoon, PO Haggerty purchased an orange Mongoose bicycle for the boy. She also stopped at Target and purchased a bicycle helmet, all with her own money. She was working a double that day so while on B platoon she stopped by the boy's house on Parkmount to give the bicycle and the helmet to the boy and his mother. They were both very happy that the officer did this for them and extended their gratitude.
Officer Haggerty is an excellent officer and always goes out of her way to help the citizens of Cleveland. I thought this incident was special and something that you along with the First District Community should know about. I would think for this effort PO Haggerty would be an excellent candidate for Officer of the Month.
— Lieutenant Timothy Cannon, First District A Platoon
During this holiday season, it is especially important to remember our police officers who put their lives on the line every day. And it is also noteworthy that our officers care so much about our community. It is because of the devotion and dedication to the community she serves that we recognize Patrol Officer Samantha Haggerty as as the Police Officer of the Month for December 2018.