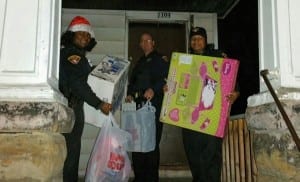 The Cleveland Police Foundation teamed up with the generous and giving officers of the 5th District to brighten up the Christmas of a family that lost all of their Christmas presents in a burglary. The following email is from 5th District Sgt. Kevin Kincaid.
"Sir,
Officers of the Cleveland Division of Police 5th District, "C" Platoon refused to let the Grinch steal this family's Christmas. While assigned to night shift in the early morning hours of December 21, 2015, P.O. Kevin Freese # 390 was investigating a Burglary / Theft that had occurred in the 5th District's St. Clair / Superior Neighborhood. During his investigation P.O. Freese learned that a resident's home had been burglarized and that the young children's wrapped Christmas presents were stolen. P.O. Freese could tell that the victim was devastated and concerned about how she was going to make Christmas happen for her children. P.O. Freese later made the other police officers on night shift aware of the incident. 5th District night shift officers decided that even though the Grinch got away with some presents, he was not going to take Christmas from this family. With P.O. Lakisha Harris and P.O. Carma Crosby leading the way, the officers purchased gifts to replace the gifts stolen from the three young children. Officers also reached out to the Cleveland Police Foundation who generously donated a $100.00 Toys R' Us gift card for the officers to give to the family. On December 22, 2015, P.O. Kevin Freese, P.O. Lakisha Harris, and P.O. Carma Crosby dropped the replacement gifts and the Toys R' Us gift card off to the young mother with plenty of time for her to get everything ready for Christmas morning. Grinch: 0, CPD: 1.
The mother was extremely appreciative and moved to tears by this selfless act.