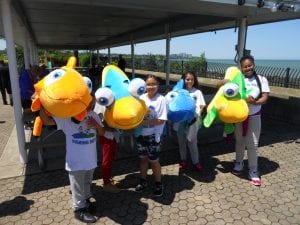 On June 11, 2019 the Eleventh Annual First and Second District Cops for Kids fishing event was held at Edgewater Park. Sponsored by Safety Director Mike McGrath, there were 21 kids from the Cleveland Boys & Girls Clubs of Cleveland joined by an equal amount of CPD officers for a morning of fishing aboard the Holiday Charter Boat.
Although the weather was sunny and cool, the lake had a slight chop and a few of the kids got seasick!   But they still managed to catch some tasty walleye.
The group returned to the marina a little early and all enjoyed a nice lunch. Then the kids had the opportunity to interact with the police officers they fished with, as well as officers from the SWAT Unit, Mounted Unit, Motorcycle Unit, and K-9 Officers.
Thanks to all the Cleveland Police Foundation board members, neighborhood volunteers, and Cleveland Police officers who participated in making this event a success. And a special thanks goes out to board member Dick Clough for donating four large plush stuffed fish that were raffled off to four lucky children! The big ones didn't get away!