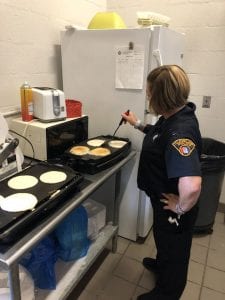 The Cleveland Police Foundation, Councilman Brian Kazy, First District officers, and Community Policing teamed up to cook and serve brunch to 100 seniors at Gunning Park Recreation Center on Tuesday April 23rd.
The seniors enjoyed brunch, a DJ, and other fun activities sponsored by the City of Cleveland and Ward 16's Councilman Kazy!!
The team cooking and serving had a great time!!
Thank you CPF, Councilman Kazy and staff, First District Commander Daniel Fay and the First District Community Engagement Officers, and the First District Community Relations Committee for thinking of our seniors!!