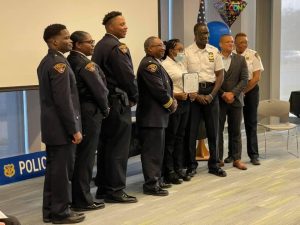 The Law Enforcement Explorers Program is a cooperative effort with the Boy Scouts of America.  It is directed toward young men and women who have completed the eight grade, are between 14 and 21 years old, and interested in law enforcement careers.  The youth are offered experiential learning with lots of fun-filled, hands-on activities to promote growth and development.
But the celebration of the young Explorers was bittersweet as they learned that their commander, Cleveland Police Officer Rayshawn Rahim, was being deployed to go overseas with the U.S. Air Force Reserves.  Rahim, on the force since 2014 will be gone at least 6 months.  The officer compares his military duty to that of law enforcement and says "I have a job to do and I am going to do my job, to the best of my ability." (PO Rahim is at the left in the photo)
For more information on Explorers, contact CPD Community Policing at 216-623-5080.