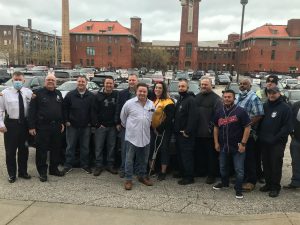 On Friday, April 16, 2021 I was invited to a "walk out" ceremony at the Cleveland Police Public Safety Central Building on Payne Avenue.  CPD Officer Chuck Judd was being honored on his well-deserved retirement.
Officer Judd turned in his Cleveland Division of Police-issued equipment at this time as his son, Lieutenant Tim Maffo-Judd, arranged to make this bittersweet moment special.  All the officers from Officer Judd's shift lined up outside the building to give him a round of applause.  He received his final call-off at 1042 AM from radio dispatch.  All those present wished Officer Judd good luck!
On behalf of the Cleveland Police Foundation, we extend to Officer Chuck Judd our best for a healthy and happy retirement.  Thank you for over 20 years of dedicated service to the City of Cleveland and the Division of Police!
Submitted by Bob Guttu, CPF Community Outreach Coordinator