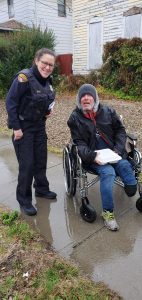 A great job by Catholic Charities, St Augustine Hunger Center, and the hundreds of volunteers, including Feed the Need, that came out to feed 5,000 or more!!
Retired Sister Corita Ambros helped as well!  Catholic Charities rolled out 15,000 meals between the St. Augustine Hunger Center in the Tremont neighborhood, three other sites, and meal deliveries.
Hungry recipients from the community relished turkey, candied yams, green beans, corn, dressing, and sweet potato pie!
Another wonderful example of community caring and Cleveland Police compassion!