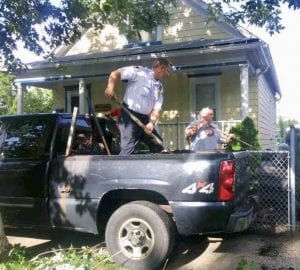 It's only fitting that on Labor Day the spotlight is on Lieutenant Ed Lentz laboring away at The House of Champions on West 47th Street in Cleveland. The House of Champions is the dream of Sister Nanette Zeimet and a collaborative effort between the Sisters of Notre Dame in Chardon, Ursuline Sisters of Cleveland, and Sisters of the Most Holy Trinity!! The house is an after school refuge for ten children from Metro Catholic, Urban Community, and St Rocco's. The children will learn a variety of skills and get guidance from volunteers to assist with their homework.
Lieutenant Lentz and some friends from St. Ignatius and St. Edwards joined current and former officers to do some yard work.
Great job by all of the Sisters and the volunteers that have made The House of Champions a dream come true!!