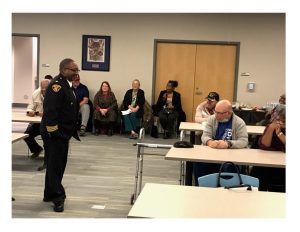 The Citizens Police Academy is a nine-week course for laypeople to learn about the workings of the Cleveland Division of Police.  Participants visit the shooting range and Justice Center and hear outstanding speakers from within the CPD.
Attending the recent graduation ceremony were Cleveland Police Foundation Executive Director Rick DeChant and Community Outreach Coordinator Bob Guttu.  To show their support, members of the Citizens Police Academy Alumni were also present.  (this group was organized in 2005 by Retired Sergeant Chas Lane and Retired PO Guttu)
Each graduate received a certificate and a gift bag.  All members present were recipients of the Detective Jim Skernivitz Challenge Coin, donated by a generous giver.
Following the ceremony, there were refreshments and fellowship among old friends!
Interested in participating in the Citizens Police Academy?  Please call 216-623-5080 for more information.