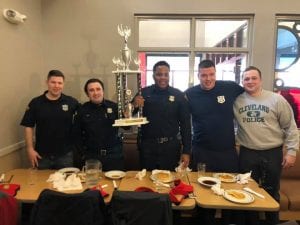 Held at the Steelyard IHOP, the 2020 World Team Pancake Eating Championship was won by the Cleveland Police. CPD had lost 12 years in a row to their Cleveland Fire rivals but 13 must be their lucky number!! Team CPD members Stanton, Petkac, Calhoun, Pavlik, and Fioritto took home the giant World Championship trophy, at least for the year!!
This event kicked off National Pancake Day, which was Feb 25.  On that day, IHOP donated proceeds from all sales to the Children's Miracle Network!!
For the competition, Cleveland Police (CPPA) and Cleveland Fire unions, along with Cleveland Cops for Kids, each donated $250 to the Children's Miracle Network. This charity supports University Hospitals Rainbow Babies & Children's Hospital!!
Thank you to Steelyard IHOP, Munch Bishop, University Hospitals, and our participants and safety force unions for thinking of our children!!