A summary of the successful Cops for Kids fishing event, sponsored by the Cleveland Police Foundation. Highlights the day's fishing adventure, bonding between the officers and kids, and appreciation for the community's effort in making the event a success.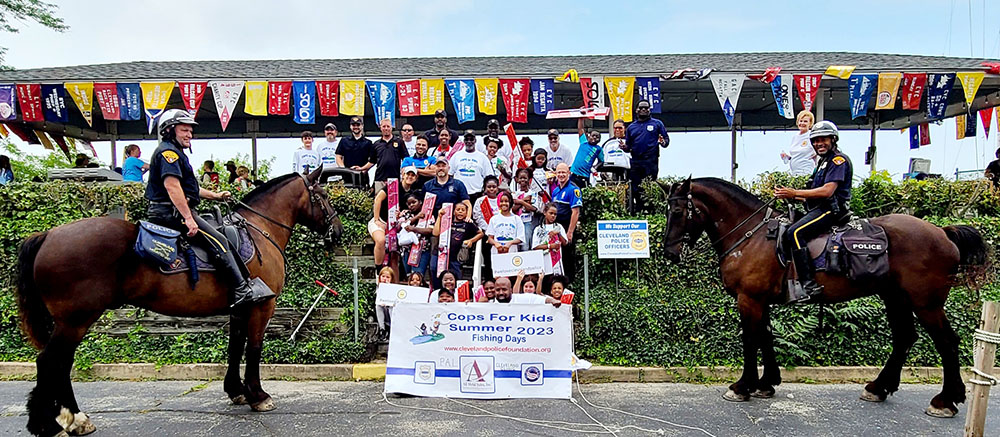 The second and final Cops for Kids fishing event for the year was held mid-July and was sponsored by Cleveland Police Foundation board member Tom Klocker and hosted by the Edgewater Yacht Club.
The cops and kids gathered around the pavilion for a briefing on the day's events and secured and put on the special Cops for Kids t-shirts. The rain clouds began to give way to partly cloudy skies as the Holiday Charter Boat left the marina with an enthusiastic group of officers and kids hoping to catch some fish.
After a couple of hours of fishing the boat returned with a happy and hungry bunch of individuals that caught some fish, and provided stories of the ones that got away. Lunch was then served and the kids had the opportunity to interact again with the cops they fished with and officers from the K-9, Mounted and Motorcycle Units.
As the kids left each was handed a brand new fishing rod with hopes they continue to fish and enjoy the outdoors. There are so many individuals that made this event a success, and I would like to thank all the officers that volunteered as they do every year to make sure the kids have a great time. Thanks to Tom Klocker for sponsoring, former Chief Mike McGrath for assisting, Edgewater Yacht Club for hosting and Cleveland Police Foundation President Dick Clough, Executive Director Rick DeChant, board members Ed Stevens and Woods King. Also thanks to Rose Roy and Lisa Fox for cooking and serving and special thanks to Lt. Ed Lentz for not only assisting the kids in catching the fish but demonstrating how to clean and prepare the fish. If I left someone out, forgive me, but it truly was a joint effort to make this event a success. Hope to see you all next year!
~ Bob Guttu, CPF
Much photography contributed by Barney Taxel