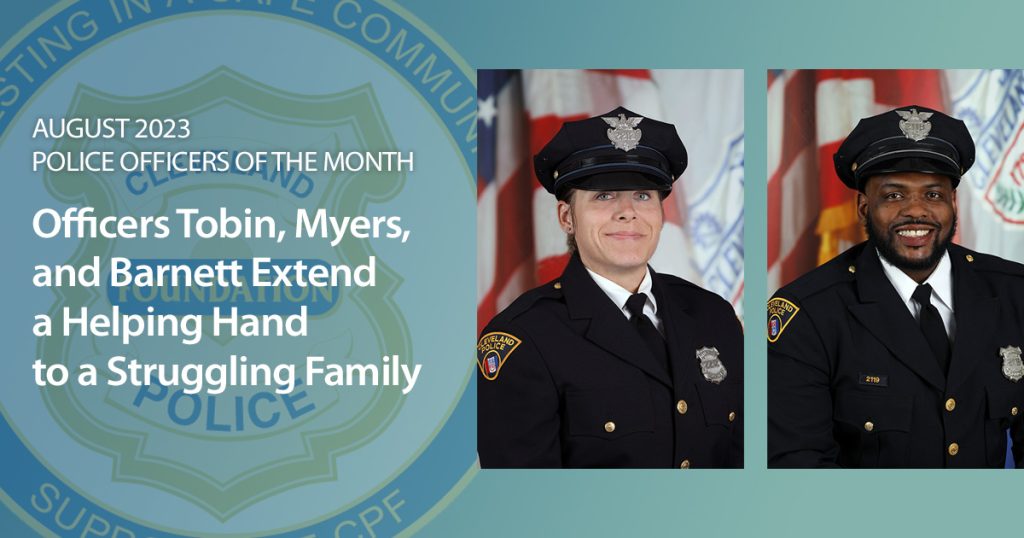 Above: Patrol Officers Theresa Tobin and Gregory Barnett. Patrol Officer Bryan Myers' picture not available at time of publication.
The officers assigned to Basic Patrol play a crucial role as the first responders to every incident. Their handling of each assignment significantly affects the lives of those requesting their help. This responsibility was highlighted when Third District Patrol Officers Theresa Tobin, Bryan Myers, and Gregory Barnett responded to a call regarding juveniles breaking into a home.
Upon their arrival, they observed an open door and discovered six young children inside, ranging in age from 5 months to 11 years old (2 boys and 4 girls). The children informed the officers that their mother had gone to the store to get food. The living conditions were dire, with only one mattress available and the house in significant disarray.
The mother returned shortly after the officers arrived and shared her struggles with supporting her children, mentioning that she had even called the 696-kids hotline for assistance. The officers learned about the passing of the children's father in prison and the recent loss of their grandmother. The mother also disclosed her challenges in finding employment due to childcare issues, and the officers noted the scarcity of furniture and food in the home.
Moved by the family's situation, all three officers immediately contributed $100.00 of their own money. One officer went to the store to purchase food for the family, and others, who had children of their own, planned on bringing items they no longer used to follow up with the family.
Captain Tim Maffo-Judd, who nominated these officers, stated, "Commander Tucker and I are proud to have these officers in the Third District; they truly make a difference." Their compassionate and devoted response has rightfully earned Patrol Officers Theresa Tobin, Bryan Myers, and Gregory Barnett the recognition as the Cleveland Police Foundation's Police Officers of the Month for August 2023.
~ Bob Guttu, CPF
(Nominated by Third District Captain Tim Maffo- Judd)