The Cleveland Police Foundation is honored to recognize Officers Zachary Banks, Danielle McNulty, and Niccolo Angelino as the August 2022 Police Officers of the Month.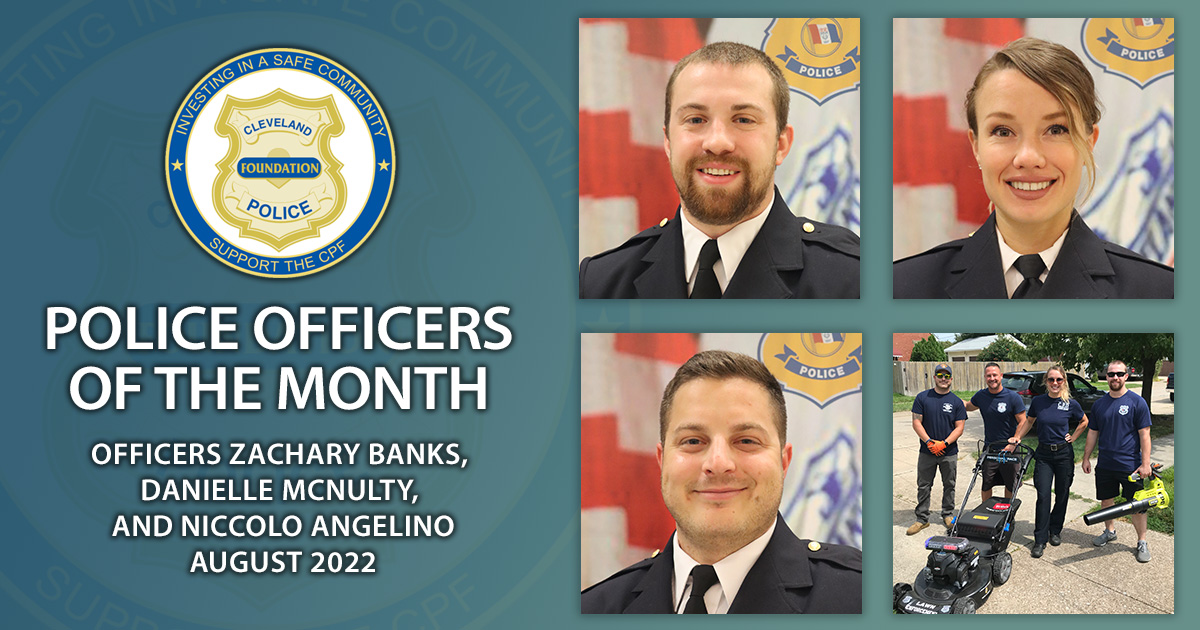 The Mowing with the Cops program in the City of Cleveland began a few weeks ago and got its start with a donation from Rodney Smith representing a non-profit called Raising Men and Women. His intention was to have the police mow the lawns of residents who can't do the work themselves. He provided a lawnmower equipped with a strobe light bar, and presented it to the Cleveland Police Foundation. The Foundation also donated a Weed Wacker and leaf blower. Lt. Tim Maffo-Judd of the Second District then recruited off duty Officers Zachary Banks, Danielle McNulty, Niccolo Angelino and City Councilman Kris Harsh to mow and trim the yard of an appreciative Ms. Nolen, a resident of the city's west side.
Lt. Maffo-Judd said, "These three officers took time out of their Saturday afternoon to assist an elderly community member who was unable to do the work herself. These officers from the Second District represent their district at the highest level and they did not hesitate to help when volunteers were needed."
It is because of their dedication to the community they serve and their willingness to help others in need that the Cleveland Police Foundation is proud to name Officers Zachary Banks, Danielle McNulty and Niccolo Angelino our Police Officers of the Month for August 2022.
More about the Police Officer of the Month Program . . .