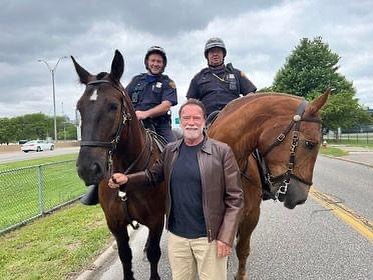 In a surprising and delightful encounter last week, Arnold Schwarzenegger, the iconic action film star and former Governor of California, took some time out of his day to engage with Cleveland's very own Mounted Unit Patrol Officers Janusczak and Farley on North Marginal Road.
Of course, the officers' trusted mounts, Max and Jim, were also part of the meet-and-greet with the "Terminator" star. Schwarzenegger, who has a well-known affinity for horses, seemed to thoroughly enjoy the unexpected meeting.
The Fourth District's Mounted Unit always appreciates moments that bring together the community and the officers. This particular encounter just happens to include a world-renowned figure. It was a unique day for the Cleveland Police Fourth District, indeed!