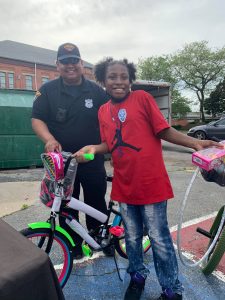 Cleveland Cops for Kids did it again as they were able to donate two bikes to the children of Malachi Center!
The Family Fun Day was held in the lot of the St. Malachi Parish and Center Complex.  Located in Ohio City, the site is on West 25th Street, between Washington and the Superior Viaduct in the shadow of the Veterans' Memorial Bridge.
A special thanks go out to Ms. Lynn and Ms. Keesha for inviting officers to this awesome get-together, the Malachi Center's Annual Family Fun Day!
Cleveland Cops for Kids enjoy Malachi Center's Family Fun Day with the Community!