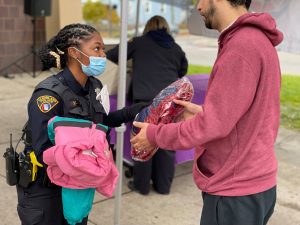 Operation Warm 2.0 was organized by Cleveland Police Community Engagement Officers Kerry Adams and Juan DeJesus.  With the help of many community partners, over 500 coats, hats, and gloves were distributed to the local families of the First District.
Special thanks to all of those who donated and/or volunteered to help distribute the coats!  Without you this event would not have been possible!
Thank you to Councilman Charles Slife & Erin Conroy, Angela Denise Green (imasurvivormission.wixsite.com/imasurvivormission), Amazon.com, Eliduvina Aponté (CareSource), Detectives William Adams and Beverly Fraticelli (Employee Assistance Unit), Officers Jeriana Yuhasz & Zhane Mills, Lisa Fox, Christian Carreon, Christina Carreon, Coco-Z, Jackie Hejduk (Hertz), Bob Guttu (The Cleveland Police Foundation), Rachel Murphy, Maddison Murphy, Brian Spencer, and Maggie Bokmiller.
Thank you ALL for going above and beyond to keep everyone warm this holiday season!