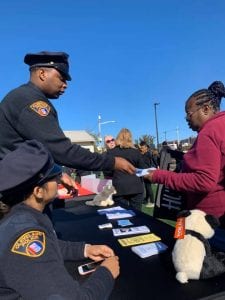 Cleveland Community Relations Unit was invited to participate in a "Walk for Freedom" organized by Cleveland Hope Exchange and Journey Church on Saturday October 19, 2019 at Saint Ignatius High School.
The purpose of this event was to raise awareness of human trafficking.  In attendance were Gina Dejesus and Amanda Berry, who were held captive for ten years on Cleveland's West Side.
The guest speaker was a young woman named Jessika, who was featured in the Netflix documentary "I Am Jane Doe," a powerful film narrated by actor and activist Jessica Chastain.  Jessika, a survivor of sex trafficking, gave a message of hope that was truly inspirational!!
"Walk for Freedom" 2020 will be held on Saturday October 17th.