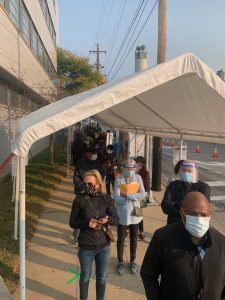 While social media can be a useful tool to connect us, it can also spread viral rumors, hoaxes, and conspiracy theories.  Be a critical thinker and ask and answer your own questions.
Please check out these websites for reliable sources for information on voting:
Vote.gov (USAgov and US Election Assistance Commission)
Your Guide to Voting During the Pandemic (Consumer Reports)
Vote 411 (League of Women Voters Education Fund)
How to vote in your state (The Washington Post)
In Cuyahoga County, there is a safe drop box at the Board of Elections 24/7 at 2925 Euclid Avenue in Cleveland in the rear parking lot.  You may return your absentee ballot there by November 3rd at 7:30 PM.  You may also return your completed Vote by Mail Ballot Application there by October 31st by NOON.  This is the site for early voting as well.
For information on in-person voting, how to get a Vote by Mail Ballot Application and more, see the Cuyahoga County Board of Elections website.
PLEASE VOTE…DEMOCRACY DEPENDS ON US!!