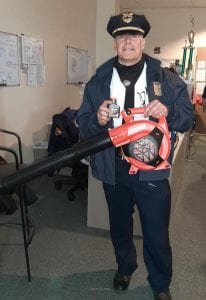 Though the COVID-19 crisis has caused cancellation of Police Memorial Week events, those who gave the ultimate sacrifice were not forgotten!
The Cleveland Police Foundation wants to thank Ontario Stone for donating 1,000 pounds of stones for the Officer David Fahey Memorial Highway sign beautification project!!  The Rocky River Home Depot also donated nearly $500 for improvements.
Special thanks to Angel and Robinson for pitching in and getting their hands dirty to honor a fallen hero!!  The memorial is on Interstate 90 westbound past Warren Road.
A big shout-out as well to the West 117th Street Home Depot for donating a new Echo handheld blower to Officer Derek Owens' Memorial Park when the old one gave out!!  The Officer Owens' Memorial Park is located on Parkview Avenue.
Respect. Honor. Remember.