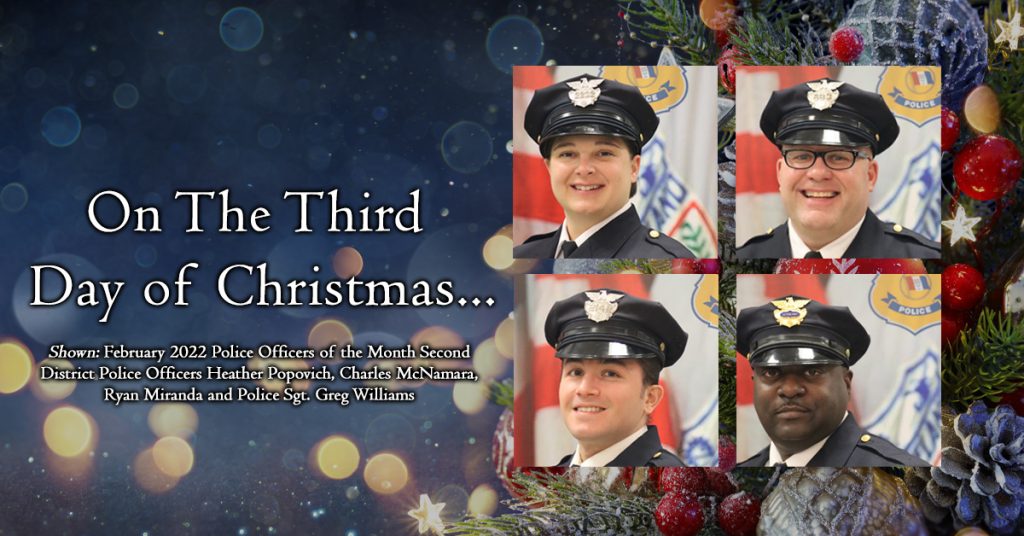 On the Third Day of Christmas, my true love gave to me…
The Police Officers of the Month Recognition Program!
This is one of our favorite programs – and the public's!
The Cleveland Police Foundation recognizes members of the Cleveland Division of Police who not only perform their duties in an exemplary and extraordinary manner, but also excel in efforts that are consistent with a major tenet of the CPF's mission to strengthen the bonds between citizens and police officers – to build bridges, create opportunities for dialogue, and forge positive relationships within the community. 
Police officers across this great country perform similar deeds day-in and day-out, with little fanfare and really not seeking, nor even wanting recognition. We commend these officers for their compassion and personal commitment to making our city a better place to live.
The four excellent Second District Police Officers in the above picture are true believers in the concept of Community Policing. During their assigned patrol duties, they often take time to interact with members of the community not only to build relationships, but also to learn whether the individual neighborhoods have any concerns.
During this past Christmas season, these officers volunteered their time to assist in distributing socks and underwear received from the Second District Annual Sock and Underwear Drive to benefit the homeless community.
This is what their immediate supervisor, Lt. Tim Maffo-Judd had to say about these officers:  "These officers are always willing to go the extra mile to assist those in need and to build a better community. That is why I recommended them for the Cleveland Police Foundation's Officer(s) of the Month Program. Their dedication and devotion to their profession and the community make them more than worthy of this recognition."
To see all the past excellent officers recognized by the Foundation, we invite you to visit the awards page here. This year's November and December officers are coming soon.
We invite your donations to our general fund here – which covers the operating costs necessary to run programs like these.
The Cleveland Police Foundation is the official charity for the Cleveland Division of Police and the only organization authorized to solicit charitable contributions on its behalf. Contributions are tax deductible as permitted under section 501 (c)(3) of the IRS Code.