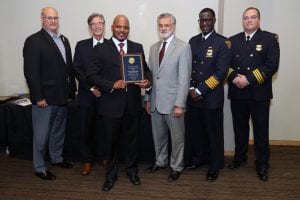 The 38th Annual Fourth District Police and Community Relations Awards Ceremony was held on October 3, 2019 to honor some very special officers and citizens who went beyond the call of duty. A large crowd was on hand as well as Mayor Jackson, Chief Calvin Williams and numerous members of City Council.
The Cleveland Police Foundation presented our annual Community Service Awards to Patrol Officers Erik Melendez and John Greczanik, Principal Jason Tidmore of Harvey Rice Wraparound School, and the Greater Cleveland Habitat for Humanity.
Congratulations to all the officers and citizens who were honored at this event!  And a big thank you to the Fourth District Community Relations Board and all the family, friends and neighbors who came out and supported the recipients.
Finally, thank you to Cleveland Police Foundation Board of Directors Members Jim Craciun and Rick DeChant for helping to honor the recipients.
Submitted by Bob Guttu, CPF Community Outreach Coordinator
From left:  CPF board members DeChant and Craciun, Principal Tidmore, Mayor Jackson, Chief Williams, Fourth District Commander Kutz
Photos:  City of Cleveland Photographic Bureau