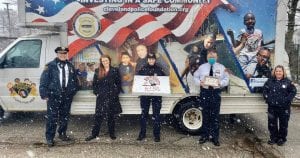 The Cleveland Police Foundation and Cleveland Police want to thank the wonderful ladies from the Greater Cleveland Chorus for donating pizza, homemade cookies, and some homemade face masks!
The donations were given to the five City of Cleveland police district stations and Cleveland fire stations 1, 13, 20, 23, and Dispatch.
These fantastic singers not only have great big voices…they also have great big hearts!
Thank you and stay safe!