The Cleveland Police Foundation is honored to recognize Patrol Officer Rashawn Rahim as the September 2020 Police Officer of the Month.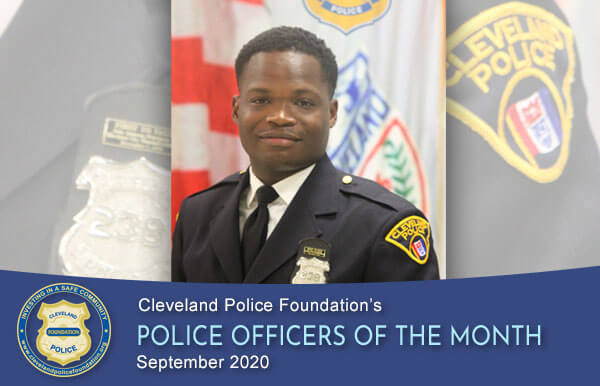 Patrol Officer Rashawn Rahim of the CPD Community Relations Unit had a dream growing up. Young Rashawn wanted to become a Cleveland Police Officer. So he joined and completed the Law Enforcement Explorer Program to make that dream a reality!
The Cleveland Police Law Enforcement Explorer Program is designed to introduce youth aged 14 through 20 years old to the police profession. The young participants develop the skills and knowledge necessary to pursue a career in the field of policing. After six years with the Cleveland Division of Police, PO Rahim is now in charge of the Explorer Program. Rahim anxiously awaits the end of the COVID-19 crisis so he can continue to recruit members so they too can join the ranks of the CPD.
When asked about Officer Rahim, his immediate supervisor Sergeant Tim Higgins stated, "Officer Rashawn Rahim is an outstanding officer that takes his job seriously and works well with our youth who have the ambition and drive to become police officers and he is well-deserving of this recognition."
It is because of his dedication and devotion to his profession that the Cleveland Police Foundation is proud to name Patrol Officer Rashawn Rahim its Police Officer of the Month for September 2020.
Editor's Note: Anyone interested in the Cleveland Police Law Enforcement Explorer Program can reach Officer Rashawn Rahim at 216-623-5080 or email him at rrahim@city.cleveland.oh.us.
More about the Police Officer of the Month Program . . .